The services of LinQhost
For all your needs and wishes, a tailored solution is possible. That is why no project is the same at LinQhost. With the expertise that LinQhost offers, no CMS or Framework is unknown to us. Read more below how we achieve this.
Contact us for the possibilities!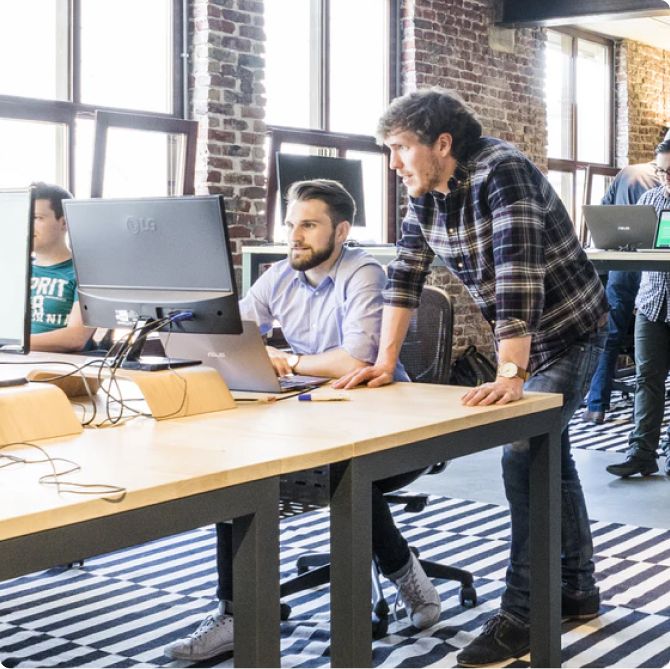 CMS hosting solutions
For almost every CMS a fitting hosting package can be offered. As no website or web application is the same, a tailored solution is always required. Is your hosting solution not part of the list? Contact our experts and we will create a customized solution for you!
WordPress hosting
A WordPress website with a lot of traffic needs the right hosting. That is where we come in. U obviously want a hosting partner that grows with you. That is why a tailored  solution is part of managed hosting. Read more about our managed WordPress hosting solutions.
Shopware hosting
Shopware offers a complete e-commerce webshop environment. LinQhost will assist you to have your customers get the seemless experience with your webshop.
Joomla hosting
Do you have a Joomla! CMS webshop? LinQhost is there for you! Managed hosting takes care of the speed and performance for you with a tailored approach for Joomla! hosting.
Drupal hosting
Durpal CMS needs the required expertise. Maintenance is a common subject in its own category. That is why it is not a bad idea to choose for managed hosting. LinQhost has the needed experience and expertise with Drupal. That is why you choose for managed Drupal hosting for the completed solution.
ModX hosting
MODX is a flexible CMS that benefits from our High Performance Webhosting solutions. LinQhost can offer you the solutions and take care of you with our customized support. We take you with us for our MODX hosting solution.
Typo3 hosting
Typo3 is being praised for the freedom and flexibilities that it brings. A tailored solution is of great importance where we will assist you. Read more about our managed hosting for Typo3.
Prestashop hosting
Prestashop is a CMS where you can make webshops with ease. This CMS is suitable for both small and big companies, You want to be ensured of the best hosting with your webshop. That is why, managed hosting for Prestashop is for you. Read more about our managed Prestashop hosting.
OpenCart hosting
OpenCart is a powerful CMS for building professional websites. However, progress does not stop when you finish building the website. You want hosting that develops and grows with your website. That is why, a tailored solutions and managed hosting for OpenCart is for you. LinQhost gives you the solution with our OpenCart Hosting.
Framework hosting solutions
Besides working with a CMS, you can also choose for a Framework. With a Framework you can build your own website or application. Ofcourse you want it to keep working properly. Is your Framework hosting solution not part of the list? Contact our experts and we will develop a tailored solution for you!
Laravel hosting
Laravel is getting popular, with great support for developers by keeping the PHP framework up to date.
Our HPW servers will bring the speed and efficiency that you want for your applications. Check out our tailored solutions for Laravel Managed hosting.
Yii hosting
Yii framework stands for: Yes it is. With this framework you can build web applications. Did you know that Yii is almost as popular as Laravel? Not so crazy that it is growing in popularity. Check out our managed Yii Solutions!
CakePHP hosting
Are you developing applications with the flexible CakePHP framework? LinQhost is thé ideal managed hosting partner for you. We will host your server on our much used High Performance Webhosting platform that is extremely fast and safe! Want to know more about managed CakePHP hosting? Click here!
Django hosting
A stable and fast server is important. The customer experience is based on the interaction with your communication channels, including your Django website.
Through time saving with managed hosting, our tailored solution can be the right choice for you! Check more out with managed Django hosting.
Symfony hosting
A Symfony project is interesting when talking about big enterprises because of the complexity that is behind Symfony. LinQhost is a steadvast partner that can host your Symfony project with ease. Read more about managed hosting for Symfony.
CodeIgniter hosting
CodeIgniter is seen as a framework with many benefits for security in handling logical structures. Our tailored solutions for CodeIgniter helps you with the hosting aspect by taking over that burden. Discover here the solutions for CodeIgniter managed hosting.
© 2023 - All right reserved